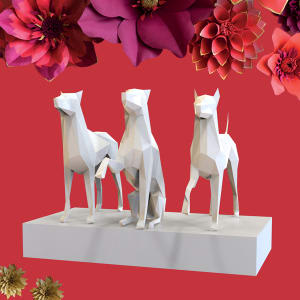 Lunar New Year | Year of the Dog Installation
–
| | | |
| --- | --- | --- |
| Day | Date | Time |
| Thursday | 22 Feb | – |
To celebrate the Year of the Dog, local artists amigo&amigo have created origami dog sculptures, which will be available for viewing at Westfield Garden City on Level 1 near H&M.
The Dog
Loyal, honest and kind, dogs never abandon their friends, family or work. They are popular in social circles and often people seek them for advice and help. The dog is an auspicious animal that symbolises the coming of good fortune.
This year is the year of the Earth Dog, to celebrate this loyal and playful animal the artists 'amigo and amigo'have designed three dogs each featuring different characteristics. When exploring the dogs form the artists were inspired by traditional origami techniques and have constructed the dogs from precise cardboard folds and geometric shapes. The pattern design draws upon elements of traditional Chinese textiles featuring rich red and gold tones. The artists have chosen gold and red colours as a symbol of prosperity and wealth for the coming year.
About the Artists
amigo & amigo , co-founded by Simone Chua and Renzo B. Larriviere is a Sydney based artist studio with a background in Industrial Design. They are passionate about lighting and experimental forms. Their body of work showcases our ability to use light and materials to transform spaces and engage the public. Their projects are predominantly large scale and technically complex, playful in nature and designed to transform environments into memorable experiences, inviting audiences to interact with the work. The amigos' installation work has been featured outside the Opera House for Sydney's Chinese New Year and Vivid Light Festival for the last 4 consecutive years.